Safety Cans
Eagle Safety Cans are manufactured to exacting standards, reflecting sophisticated technology and superior workmanship. Eagle equals engineering excellence, providing you with the most dependable containers on the market.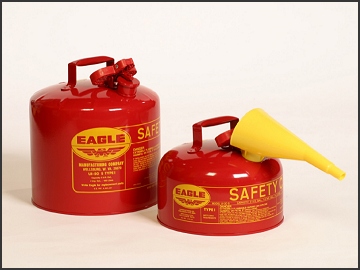 Eagle Type-I Safety Cans
Eagle galvanized type-I safety cans meet OSHA and NFPA Code 30 requirements and are UL and ULC listed and FM approved for safe handling and storage of gasoline and other flammable liquids.
Eagle cans feature environmentally friendly Lead Free Technology, constructed of 24-gauge hot dipped galvanized steel.